Hello lovely brides, where are you at in your planning process? We would love to hear from you and answer any questions you may have when it comes to preparing not only for the big day, but all the little parties leading up to it! We are anxious to hear what today's brides are up to! Please email us or send us a line on Facebook and we'll feature some of your questions and comments on our next posts!
For now, we wanted to share a little inspiration with you for the FLORALS at your wedding.  Flowers usually fall somewhere in the middle of the to- do list between dress shopping and seating charts. They are incredibly important, but until you get with a florist you don't realize how much thought truly can go into this detail of your decor!  Flowers are not just there to look pretty, they can be very representative and tie an entire theme together.  Creative and talented florists meet with brides personally to find what fits their style and weddings best! Here in Southern Utah we have had a chance to work with many of these florists and their work is constantly featured on this site.
Bloomers always provides over the top lush and beautiful arrangements, like this centerpiece arrangement! Their attention to detail is always so precise and they can match the feel and vibe of any occasion with flowers!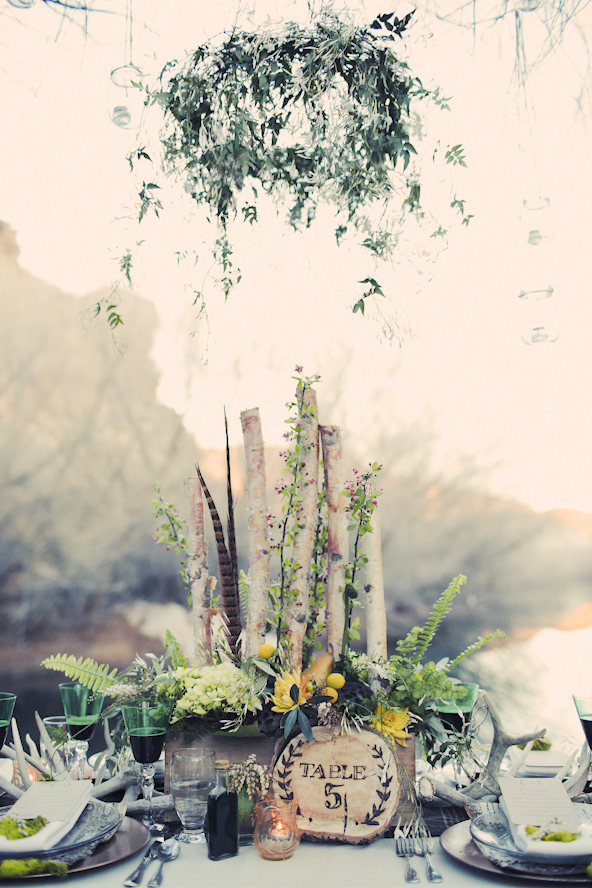 My Favorite Flowers always impresses with unique and eye catching arrangements like this bouquet and matching boutonniere with catchy purple accents!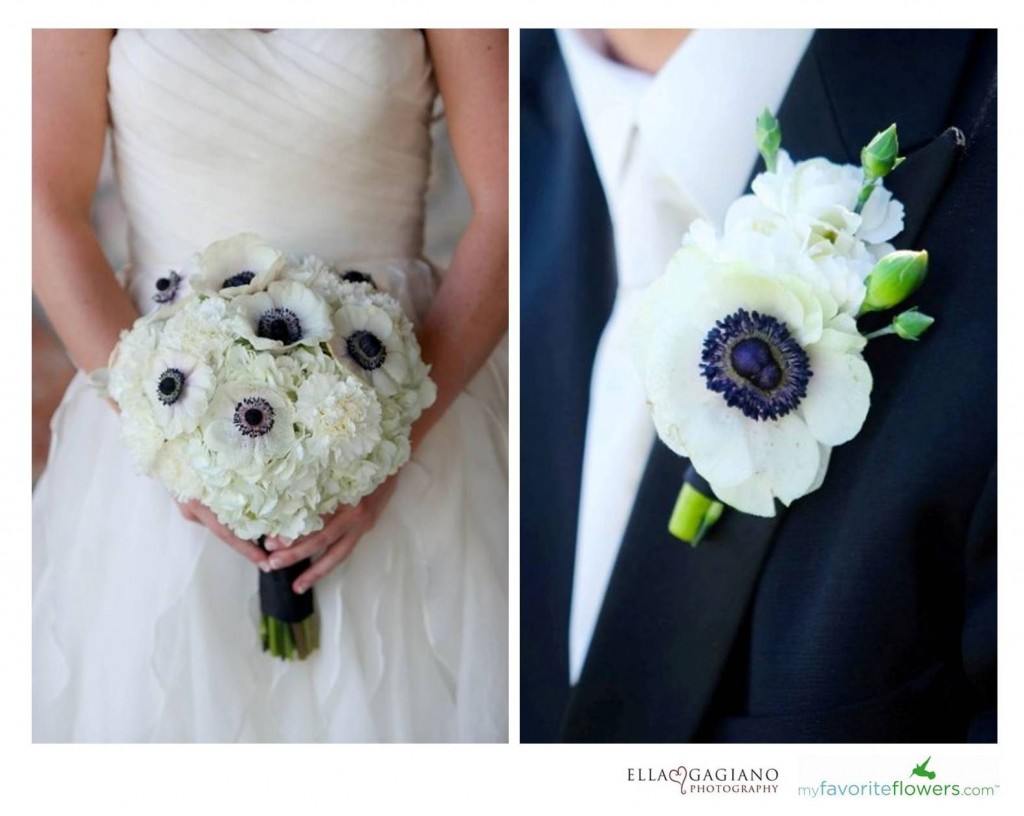 We found thousands of unique floral arrangements ranging from small to large and wanted to share just how many ways flowers can make a difference on your wedding day!
From a full head cover to a simple side arrangement, this is a sweet way to dress up your flower girls! They are after all "Flower Girls"!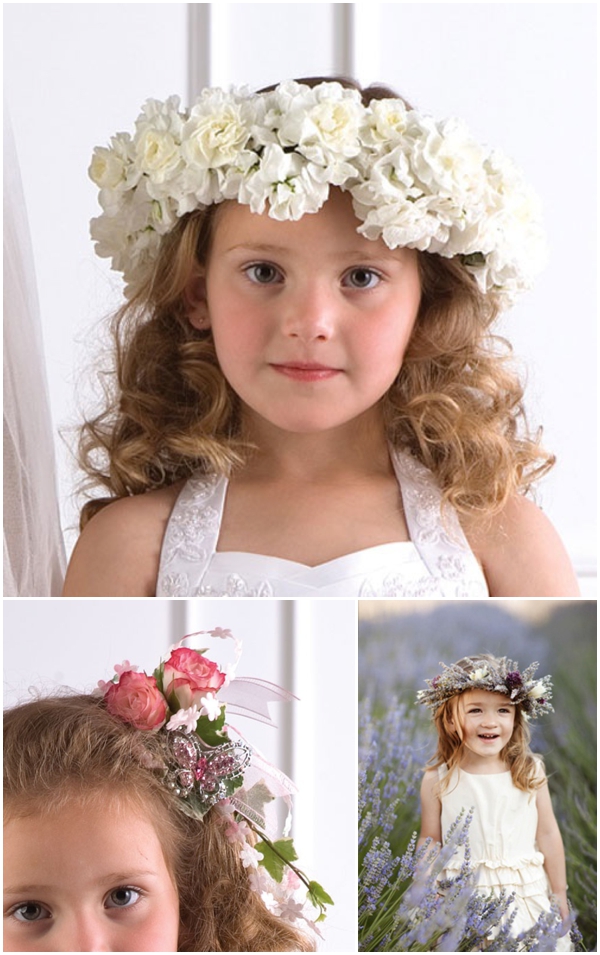 Sources: White, Pink, Lavender
We love LOVE this unique bridal bouquet pictured left, what a dramatic and memorable arrangement that shows you don't need ALL flowers for your bouquet to be beautiful. The branches are textured and beautiful in their own right! Along these same lines, the centerpiece featured right is also unique and shows how much variety you can choose from when it comes to plant life!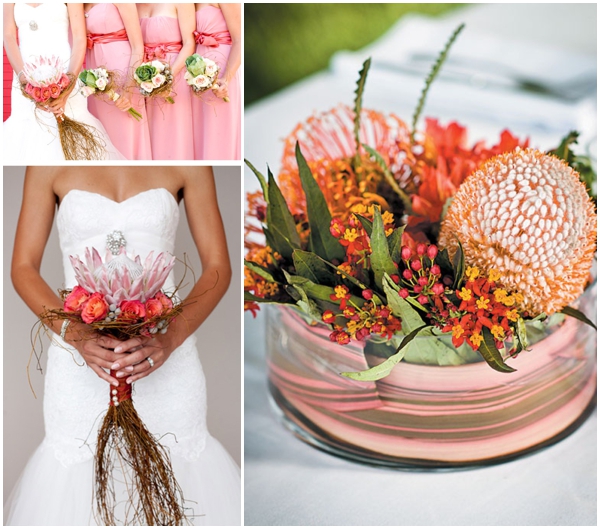 Source: Bouquets, Centerpiece
This bold green bouquet also illustrates how easy it is to stick with a color scheme. Using un-blossomed flowers in a spread of green and purple leaves can make for something very color savvy!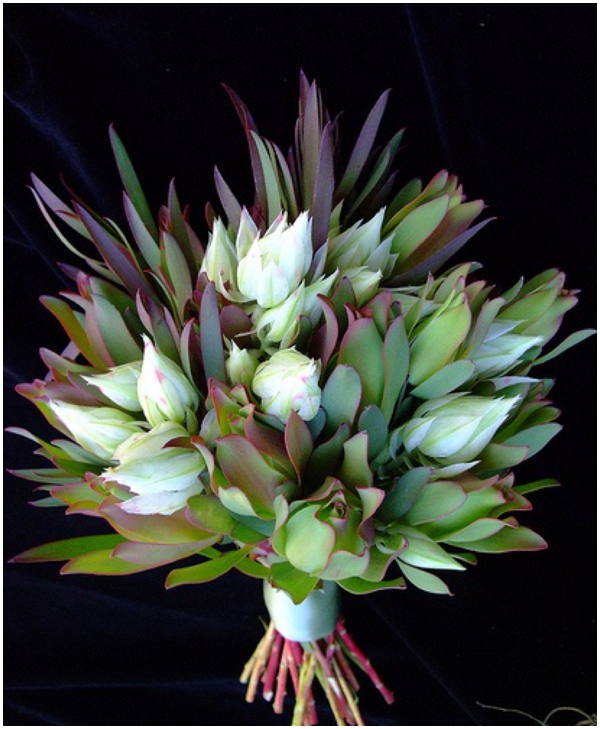 Something not necessarily new but definitely a fun way to jazz up your ceremony, floral laden aisles! Don't leave all the fun for the flower girls, create a gorgeous pathway to walk down. Here at Forevermore Events we have customized dozens of aisles with flowers and it is one of the best ways to make a statement and get your guests buzzing from the start!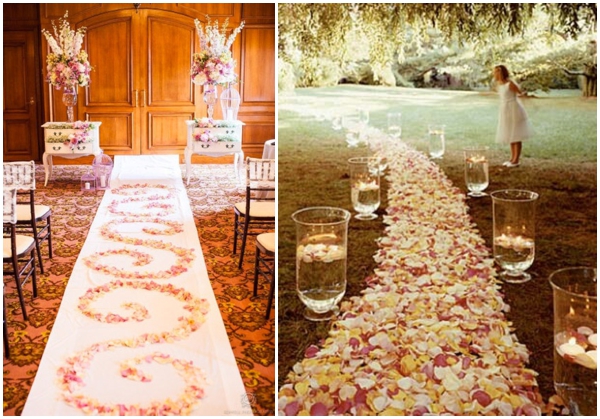 Don't forget to decorate the higher parts of the aisle as well! Placing arrangements on the sides of aisle chairs is another gorgeous way to make your grand entrance more special!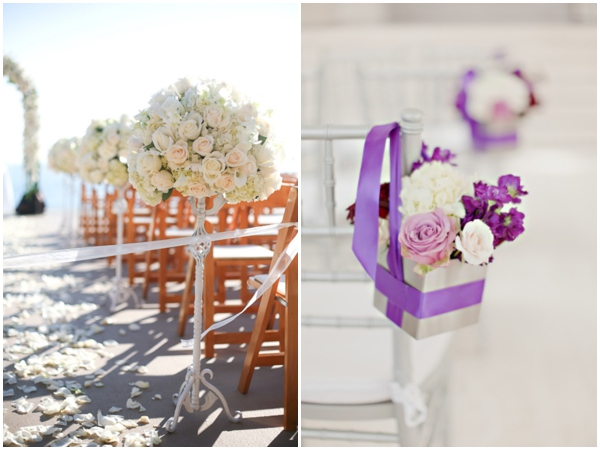 Two ways you may not have thought to use flowers: as favors, and to chill the bubbly! Pictured left this couple gave away fragrant and fresh bouquets to their guests flower market style wrapped in brown paper. A lasting gift for guests to enjoy! And pictured right, frozen flowers add color and style to this chilling champagne!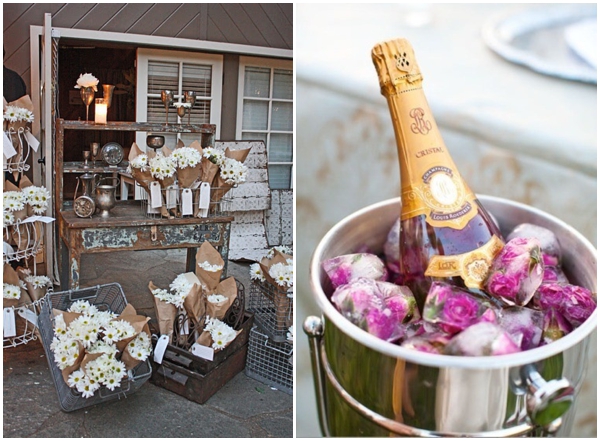 This breathtaking arrangement is unique in so many ways!  Not only does it's height and elegant color make it stand out, but also the vase laden in flowers to make this entire centerpiece formed from florals. These guests must have had a very serene experience with the hundreds of flowers found on each table!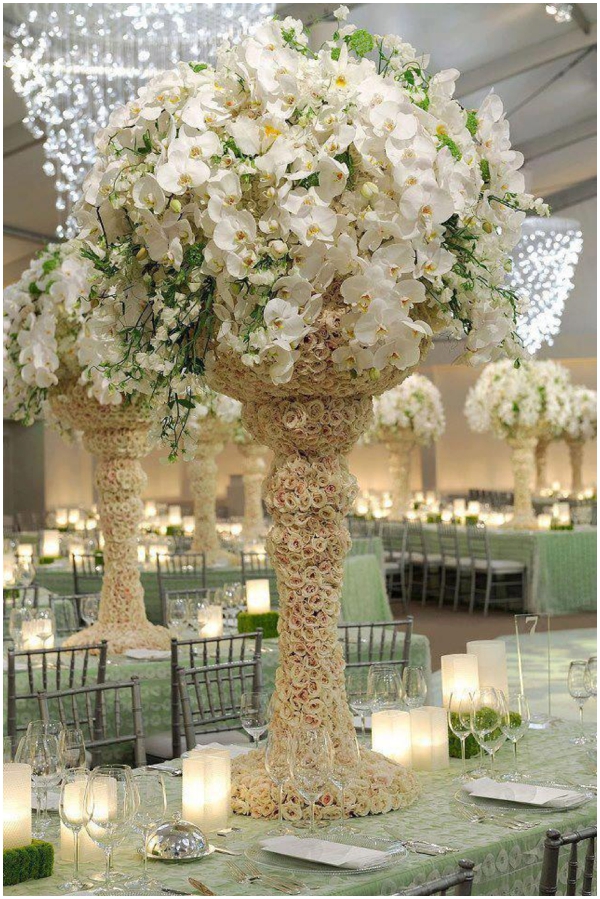 From large and endless bouquets to single floral arrangements, you can add your own personal taste to any bridal bouquet! PIctured left the bride chose to embellish her bouquet with peacock feathers, a trend which is gaining momentum. Not specific to peacocks, feathers are showing up more and more in the wedding world! And pictured right is a large singular flower tastefully decorated with beading and ribbon. Both are so beautiful!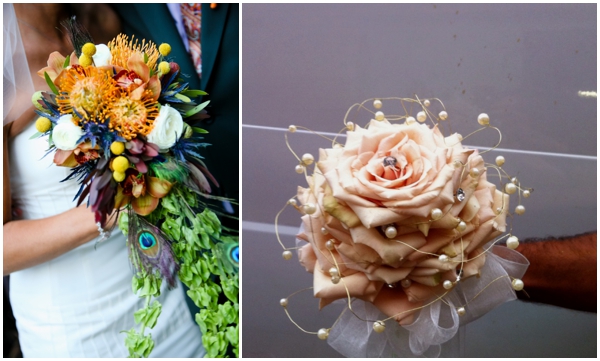 Sources:  Feathers, Single Flower
We can't forget about our dashing men! Boutonnieres need not be boring, there are so many fun ways to make such a small arrangement spectacular! Just by choosing unique florals, you already have the makings of a stylish accent for your groom. Pictured left this color focused boutonniere is wrapped in a unique ribbon. Pictured right the groom is sporting a pinecone surrounded by beautiful forrest leaves.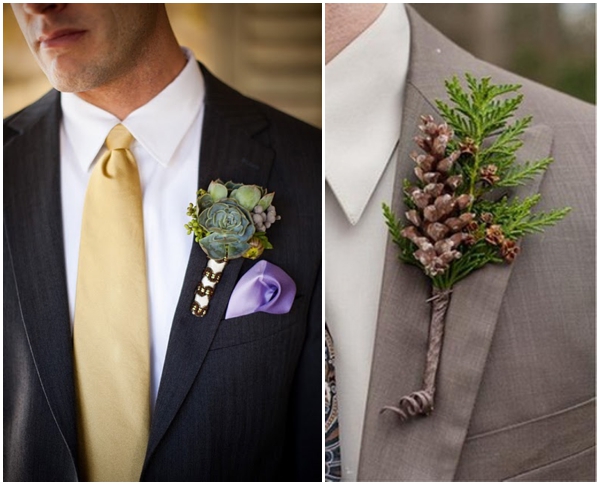 So, finally…why not just use flowers for your dress!? While this may be extreme for some, it can be very special to brides who value their country or state flower and want to illuminate that pride (and also smell FANTASTIC)! The bride pictured left is wearing a dress that took 7 people, 20,000 flowers and two days to make! (Source) The dress featured on the right is also made entirely of flowers! What a fun way to stand out!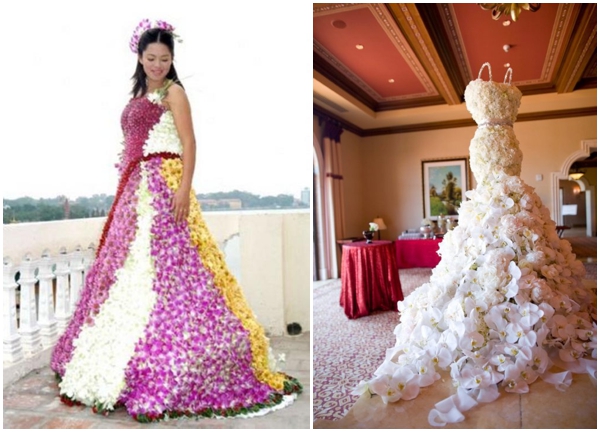 We did some research and you can expect to spend about 8% of your budget on this aspect of your wedding.  Take into consideration bridal bouquet, bridesmaids bouquets, boutonnieres, aisle flowers, centerpieces, cake flowers etc. Figure out how much apart of your day you want to incorporate flowers into! You can read more about this HERE.
We hope you head right over to a florist right now and thank them for their massive amounts of creativity and capability! Happy planning!