Fall is, for many, the favorite season of the year. And in sunny Southern Utah we are all too welcoming for the crisp air, cool breezes and beautifully changing leaves! What better way to display such a serene season than to style an engagement shoot based around natures beauty!  Tyler Rye Photography did a fabulous job working with us to pull this together and capture the essence of fall.  And with the help of other talented vendors we bring you a fall inspired shoot to enjoy through photos!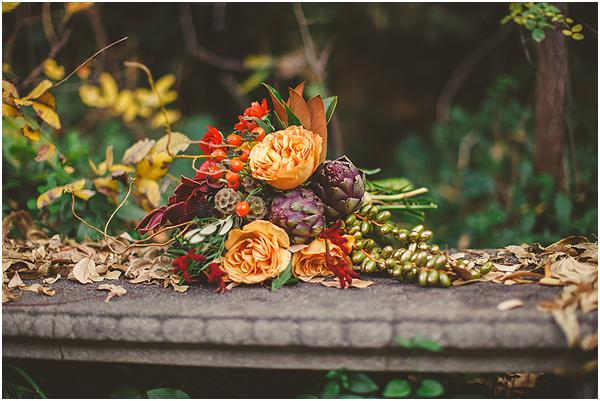 Bloomers flower & decor put together the perfect pairing of flowers that blended with the scenery and ultimately spruced up what can be a dying season.  Such beautiful accents and blends of colors!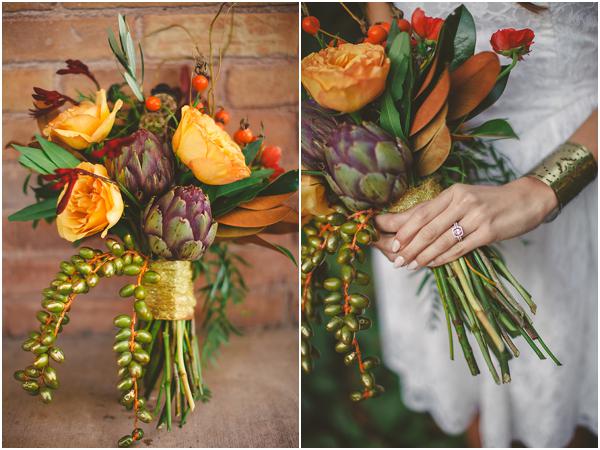 One of the fun aspects of this shoot was implementing a real live taxi cab thanks to Shane at  St George Taxi which also molded well with the colors surrounding this amazing location.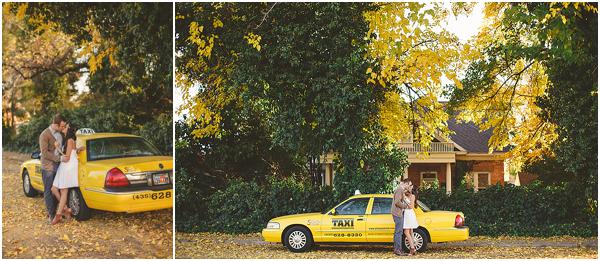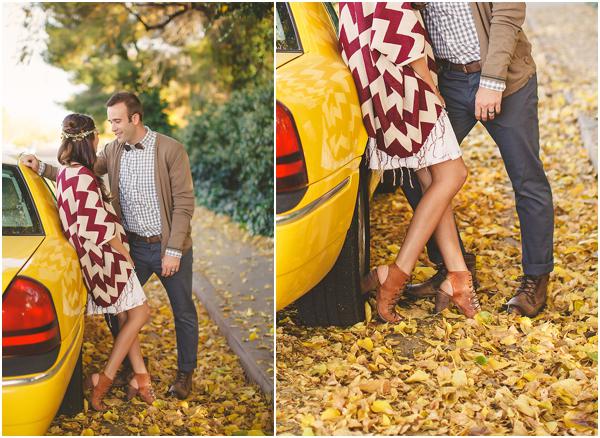 Bride and groom were stylish and chic thanks to Sarah Gardner with Varsity Cuts! Loving the head wrap accent and bowtie details on this attractive pair! Fun fact- the bowtie is actually wooden compliments of The Two Guys Bowtie Company!
Ahhhh the details! Gold is such a perfect color to bring out the natural fall palette. It calls attention to the yellowish gold leaves and is a beautiful contrast to reds and faded greens.  We used gold chargers and table accents to add elegance to the table scape.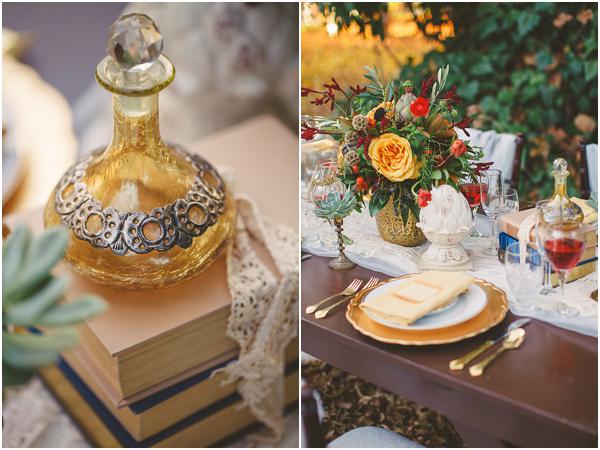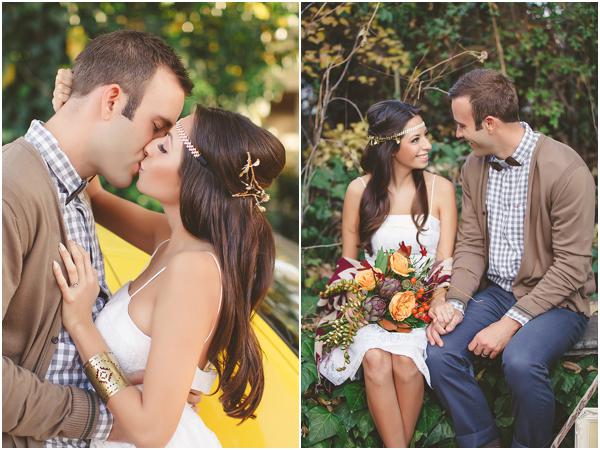 Nice closeup look at that awesome wooden bowtie!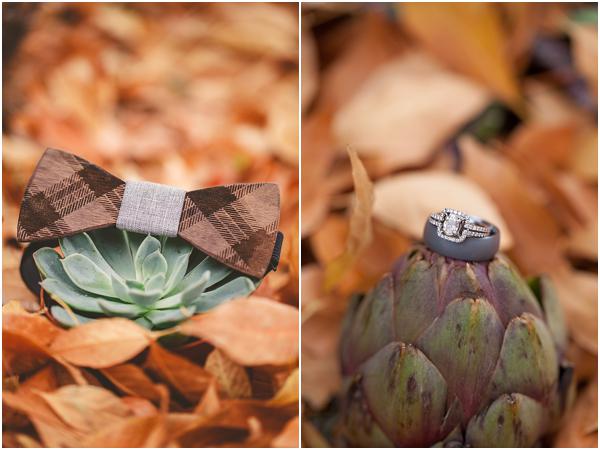 Love this dessert cart also color appropriate that carried a tasty bundt cake and pickings from the garden.
This simple yet gorgeous table was perfect for the earthy tones and natural look of this shoot and we didn't need to cover it with a whole table cloth- simply adding a unique runner kept things toned down and focused.
Linen cotton napkins are always an excellent choice when going for a natural feel. And these gorgeous paper details were the work of the very talented Alex Obering Design!
This stunning couple look like they've escaped into a secret garden of sorts with the beautiful ivy leaves and changing colors surrounding them! Throw in the beautifully designed table and treats and it's a festive fall party perfect for two!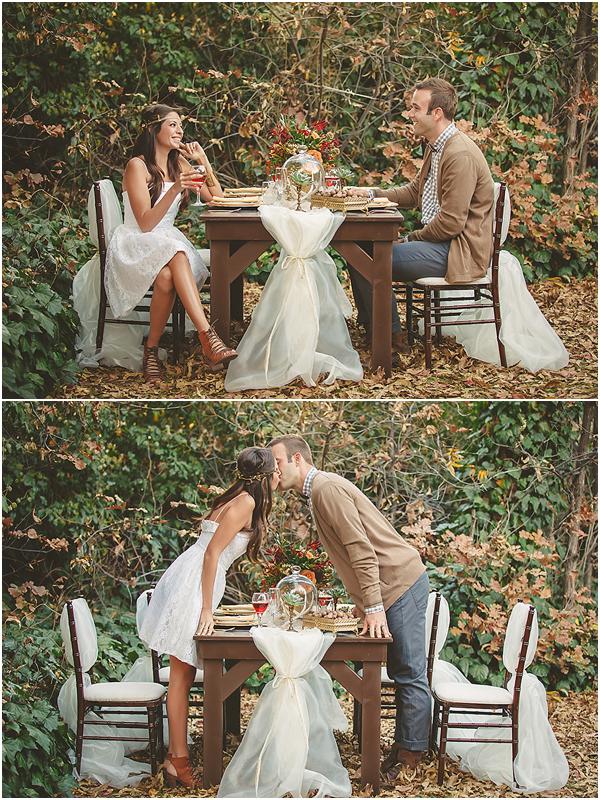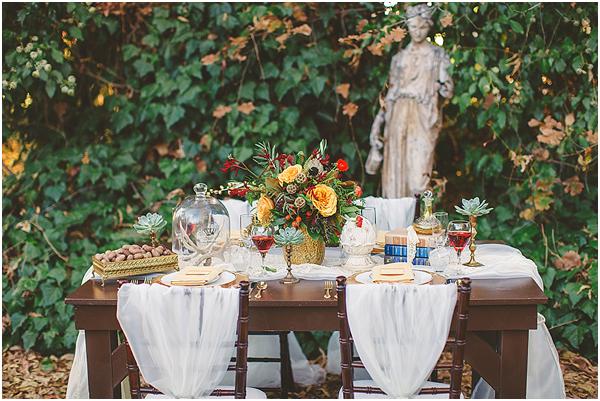 Enjoy this amazing video by Red Tie Cinematography!
– Fall Love – from Dustin Merrill on Vimeo.
 We loved working to make this shoot beautiful and as always are so thankful for talented vendors who grasp the vision and help us to make magic happen for the camera!
Bow tie: The Two Guys Bowtie Company
Design: Forevermore Events
Flowers: Bloomers Flowers & Decor
Hair and Makeup: Sarah Gardner with Varsity Cuts
Paper Details: Alex Obering Design
Photography: Tyler Rye Photography 
Rental Items: St. George Party Rentals
Taxi: St George Taxi
Video: Red Tie Cinematography