From polished hair and dramatic make-up to demure color palettes and nostalgic accents… VINTAGE Wedding trends are popping up all over Wedding Blogs and Inspiration Boards.
Vintage trends are especially showing up on runways throughout the fashion industry! AND as we all know, when it comes to weddings after the RING…what comes next is the DRESS!
WEDDING INSPIRASI, (a Bridal Fashion Blog, that is known for featuring the best-of-the-best in the Wedding Fashion Industry,) recently opened our eyes to several new lines of exquisite wedding dresses.  The collection we are featuring today comes from Yolan Cris an outstanding dress designer from Barcelona. His 2011 dress line is lovingly titled REVIVAL VINTAGE.

~There was a precious time in which, even in black and white, was innate elegance. An era that managed to coin a timeless style, where the genius of mind and demeanor were really important, The Roaring 20's~
Quote from the Yolan Cris Website: 
Crystals, feathers, lace and fringe this line is brimming with inspired accents on heavily beaded vintage Chantilly lace, and don't forget the beautiful flapper style accessories to match. Even if a "Designer Dress" is not what you are looking for, ANY Bride looking at having a roaring 20s themed wedding will be inspired by this collection!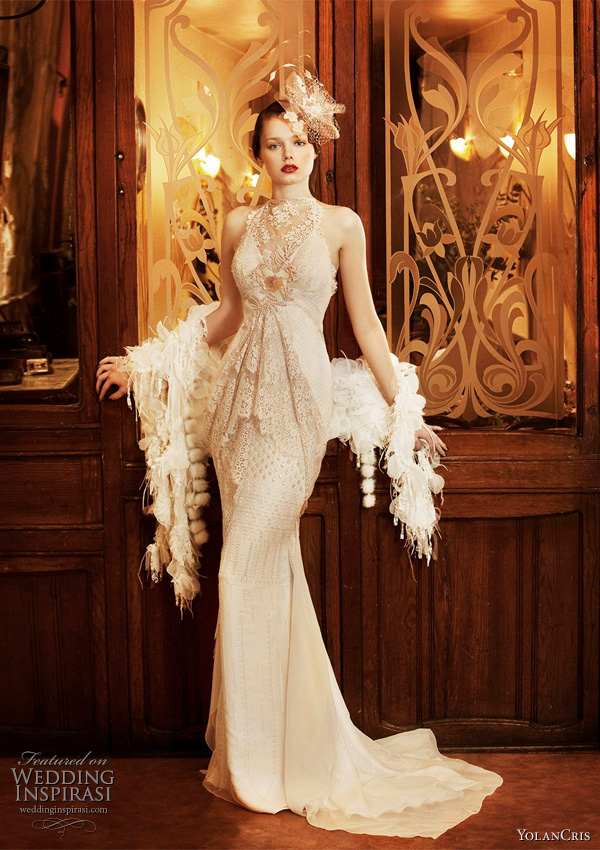 Lisboa mermaid style gown.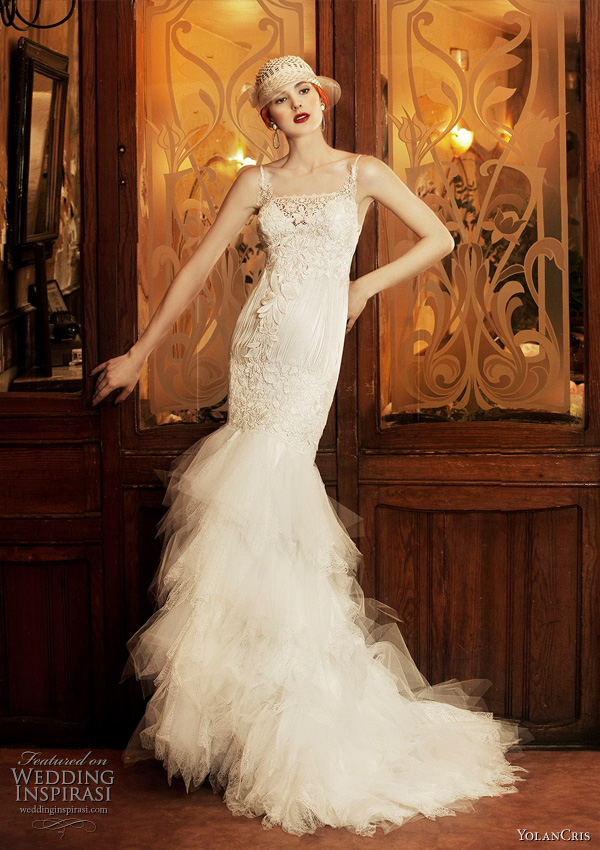 Almería cap sleeve gown featuring an intricate bead-work overlay.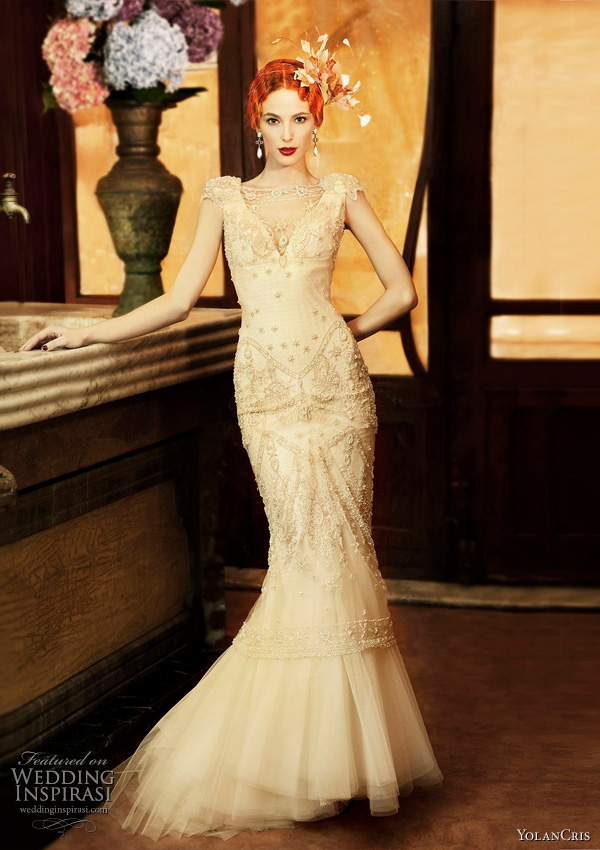 Love the double straps on this one, called París: thicker halter neck with thinner cross-back straps. Oh, and the beautiful lace pattern! Lovely!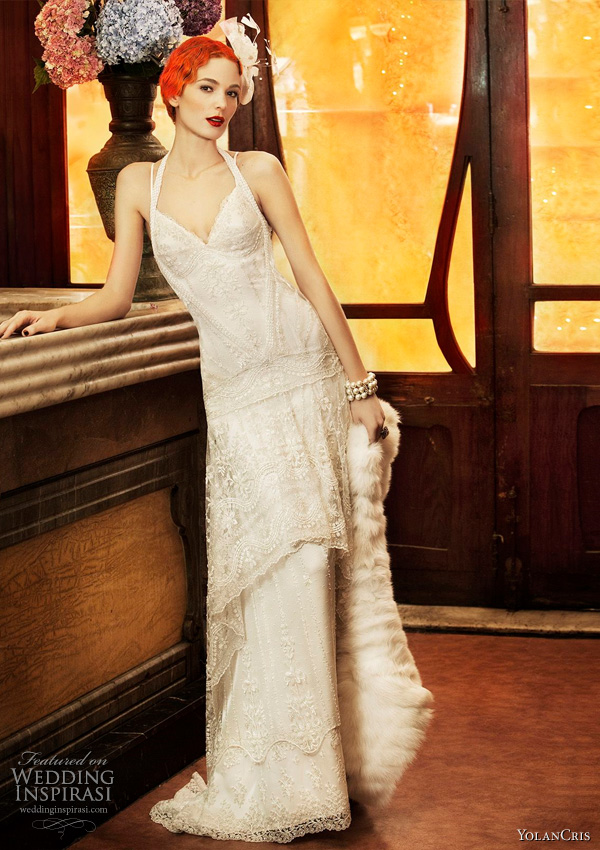 Milán, another lace gown, this one with a V-neck.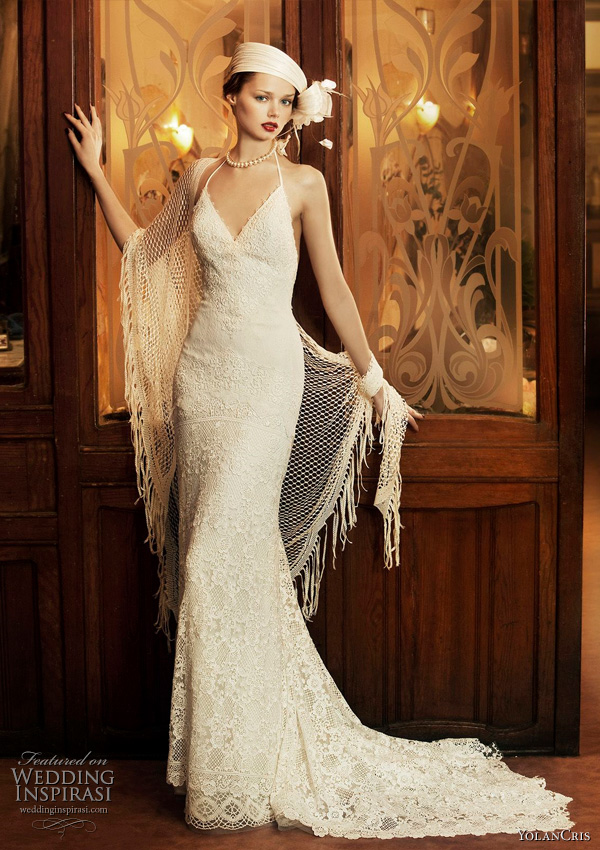 Channel a bit of Bohemia through Praga, a dress with a unique neckline.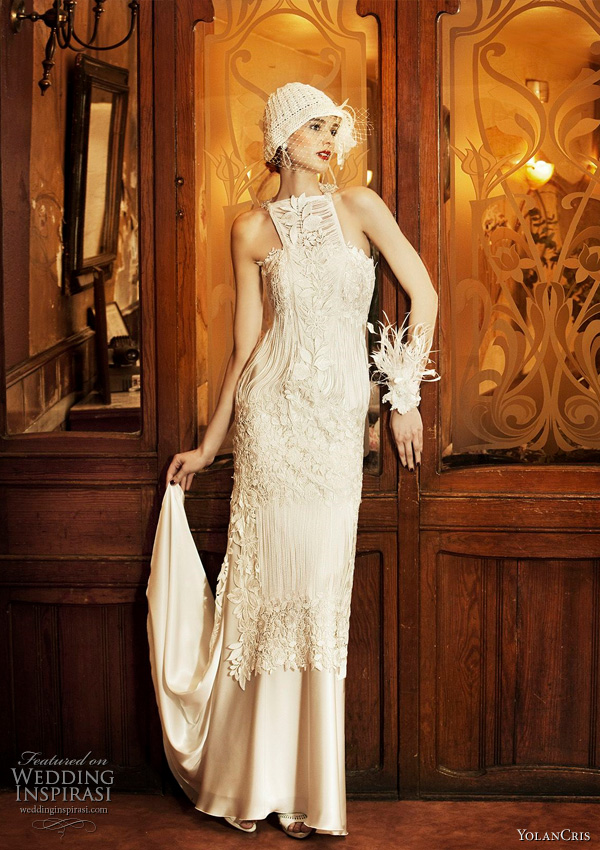 Copenhague wedding dress with stunning netted sabrina neckline.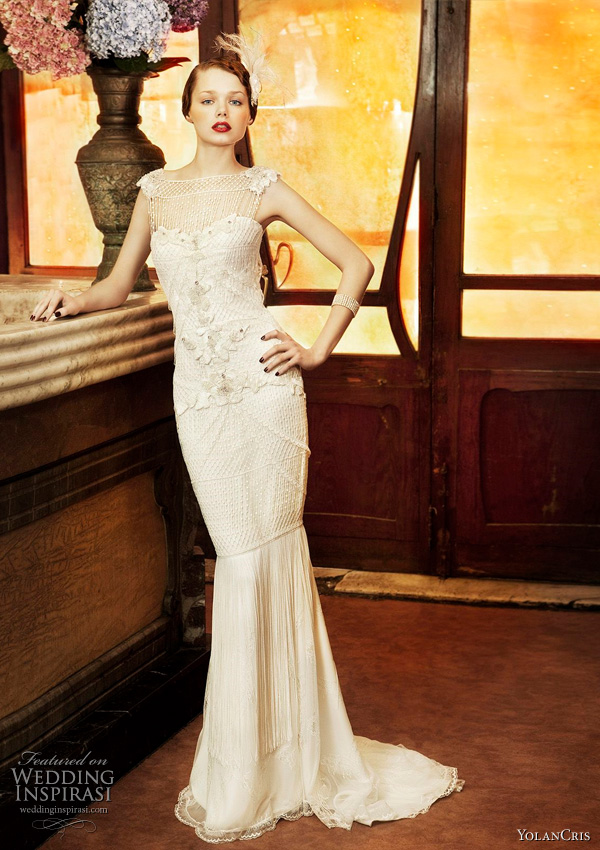 Sweet Mónaco tiered lace edged tulle wedding dress.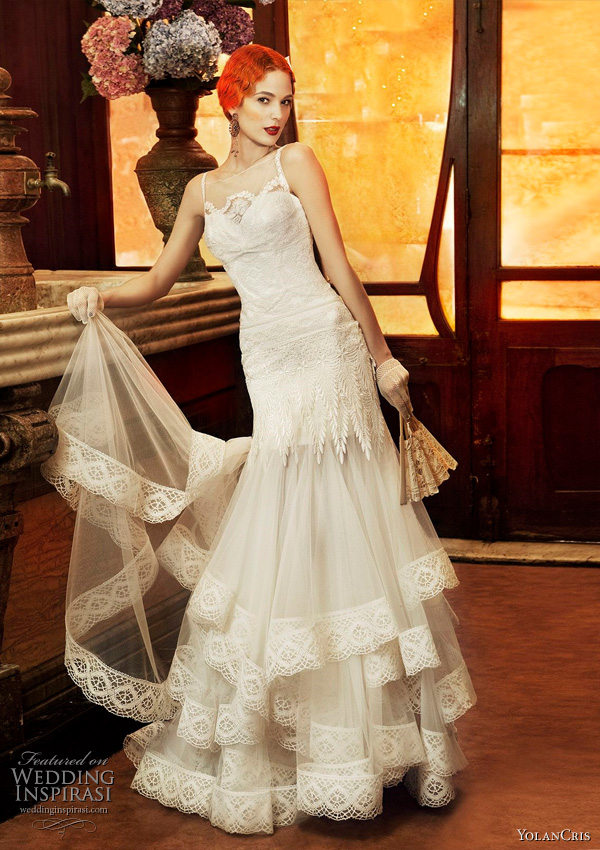 Cádiz featuring a beautiful rose motif needlework at the bodice and hips.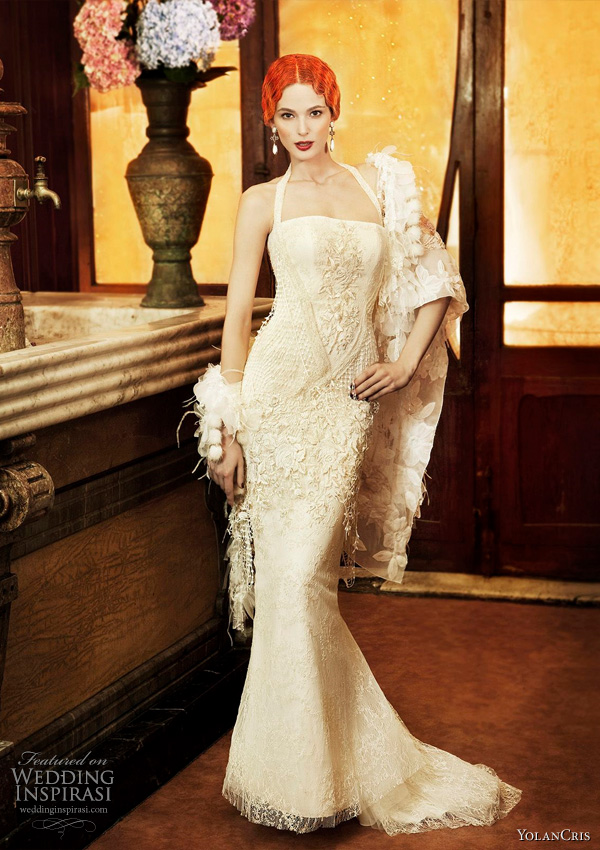 Fringe benefits — Roma wedding dress featuring tiered fringe skirt.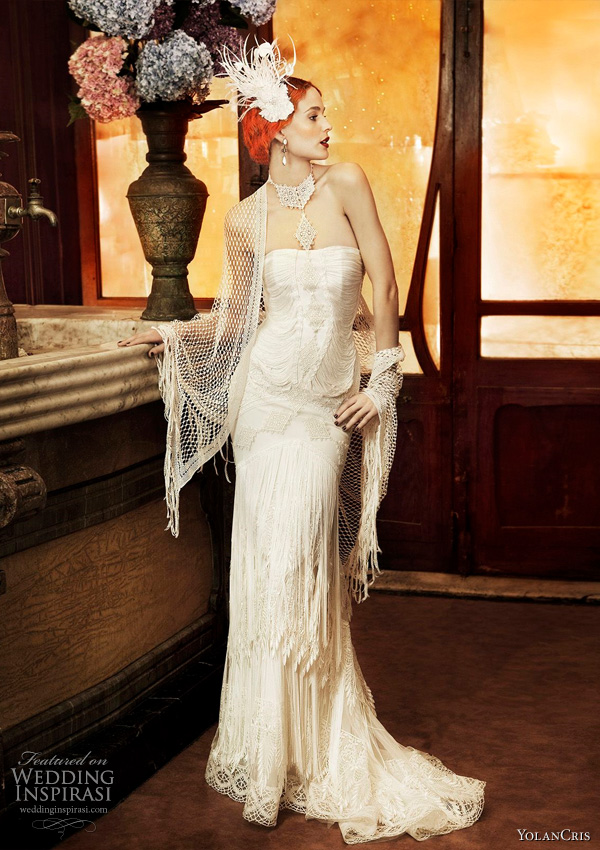 A touch of color — gown with elongated bodice with blue lace accents.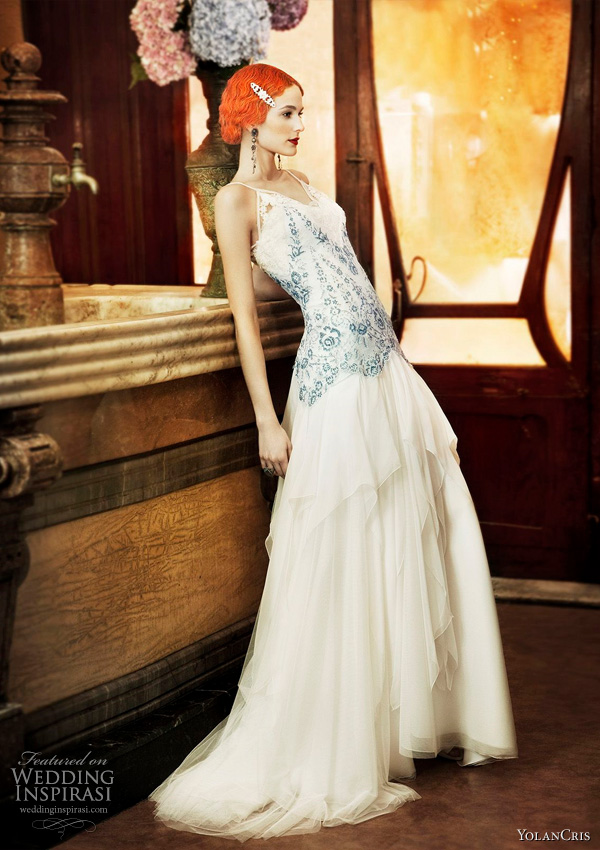 Sitting pretty in Múnich dress with long sleeve off-shoulder top.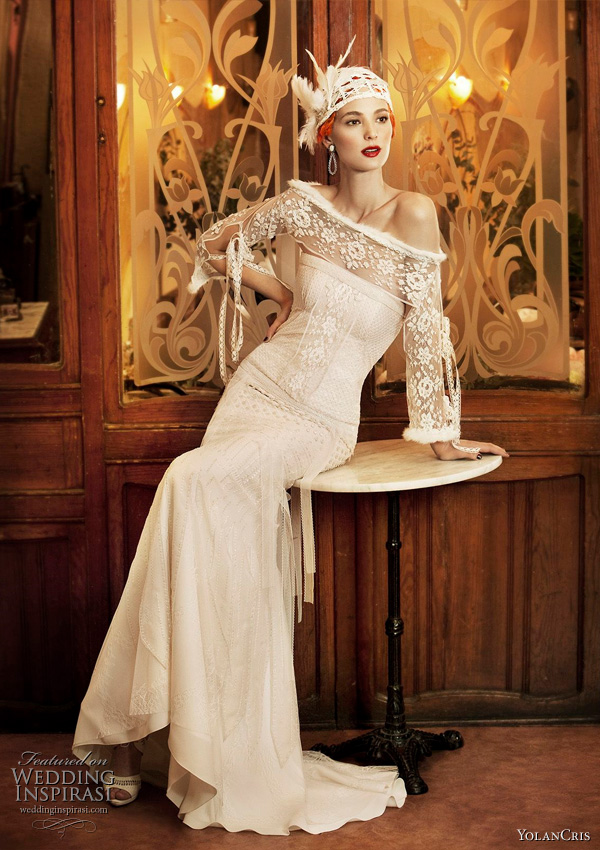 For more of these beautiful vintage style wedding dresses, click here. 
And check out WEDDING INSPIRASI for other inspiring Wedding Fashions.