Katie + Tyler | Zion National Park | Temple of Sinawa | Undercanvas Zion | Lazalu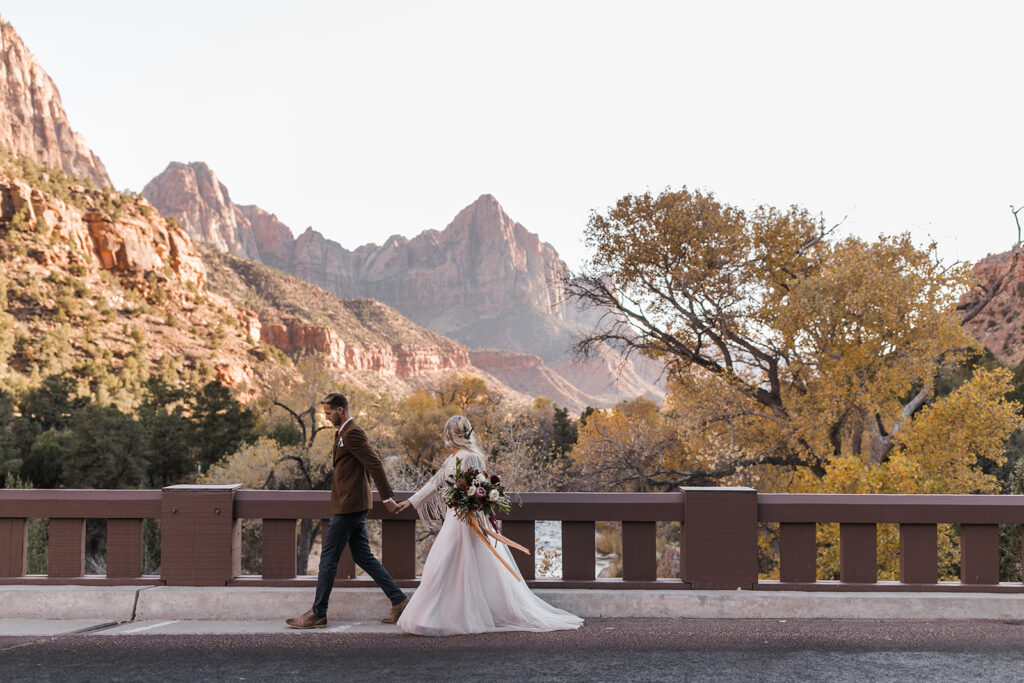 SUNRISE YOGA
Kate + Tyler began their incredible wedding weekend doing sunrise yoga with Stella Blue Trincado at Under Canvas Zion. This is the perfect example of incorporating something you love into your wedding. Many people tend to use this in what cake flavor you want, floral designs, etc. Our goal, however, is to make your day YOURS as much as possible. Yoga in the morning, a hike in the afternoon, and skinny dipping at midnight. Whatever encompasses the true 'you' is what we will do!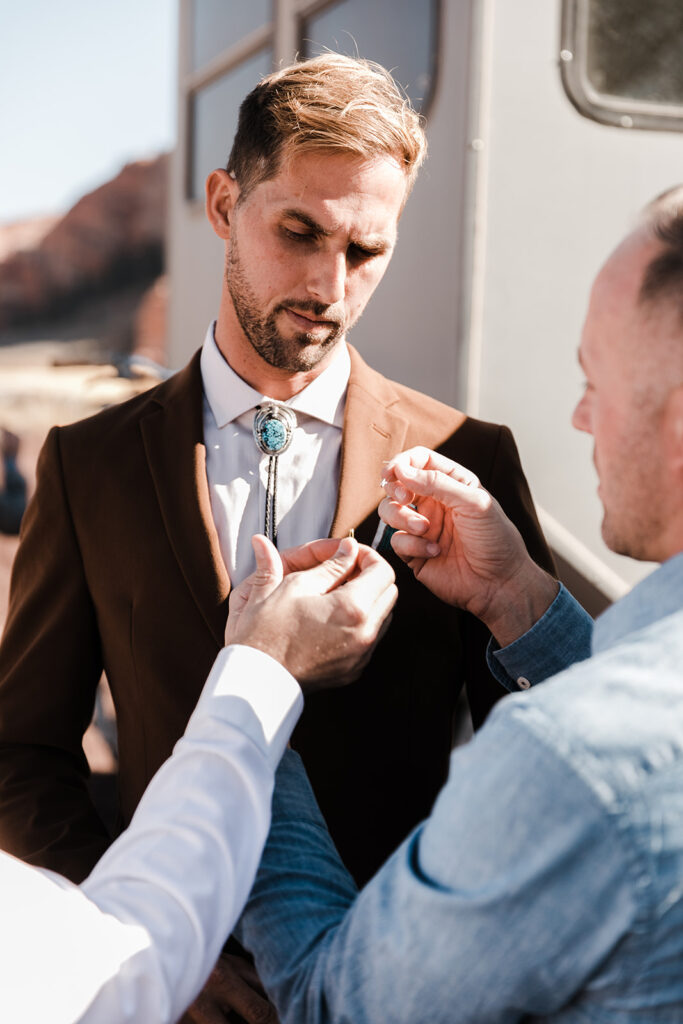 Tyler + Katie began getting ready at Lazalu right outside of Zion National Park. They got ready with their families before the ceremony.
CEREMONY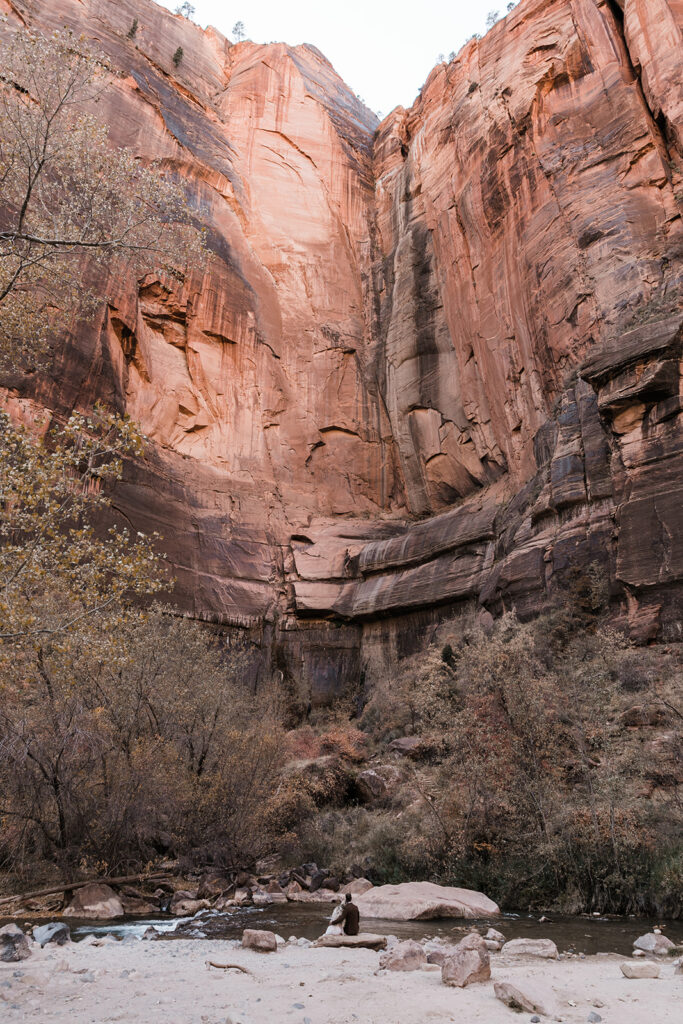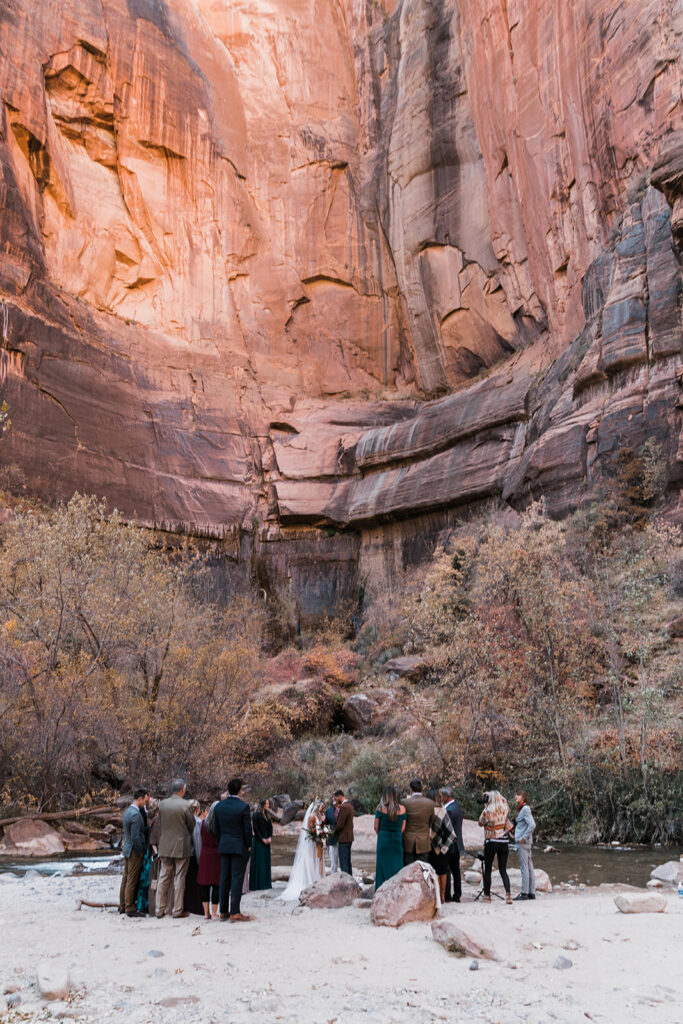 Here is a snippet we absolutely love from Abbi Hearne's blogpost, "One really unique thing about these two was that Tyler planned the whole ceremony and it was a complete surprise to Katie! Also, they didn't do a first look, so the first time he saw her in her dress was as she walked down the "aisle" (I honestly think that was one of the first couples we've had that didn't do a first look in years!). Their ceremony incorporated so many sweet moments and meaningful details, like Tyler washing Katie's feet, them praying with their families, taking communion together, and reading vows directly from the book that was used in her grandparents' wedding ceremony. At the end, he scooped her up and carried her across the river to a giant boulder where they shared their first kiss as husband and wife! It was all so perfectly "them." "
COUPLES SESSION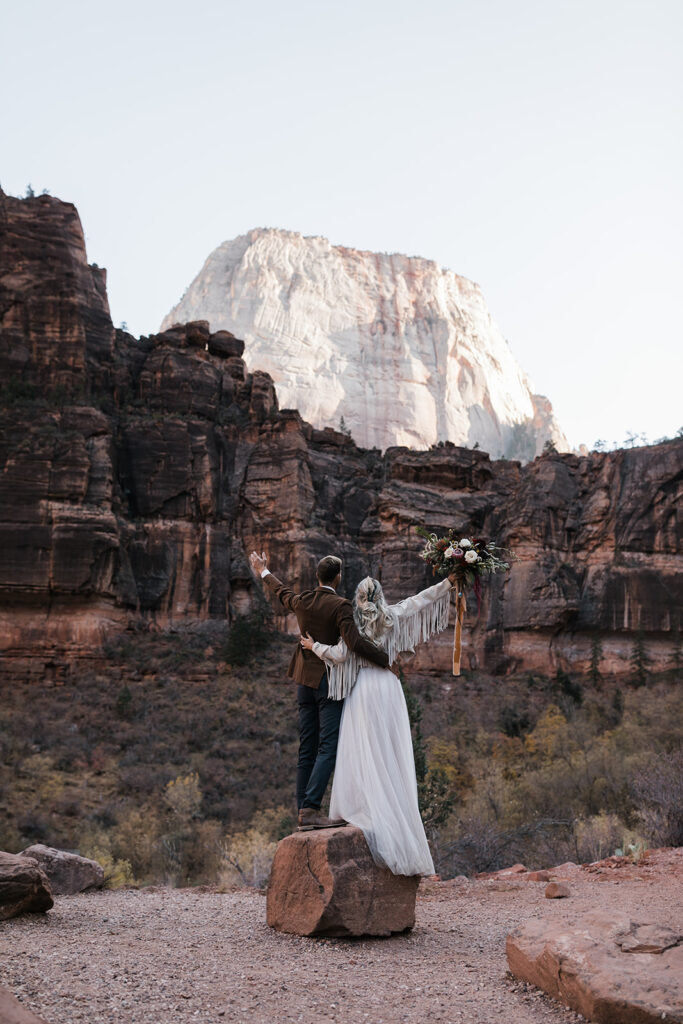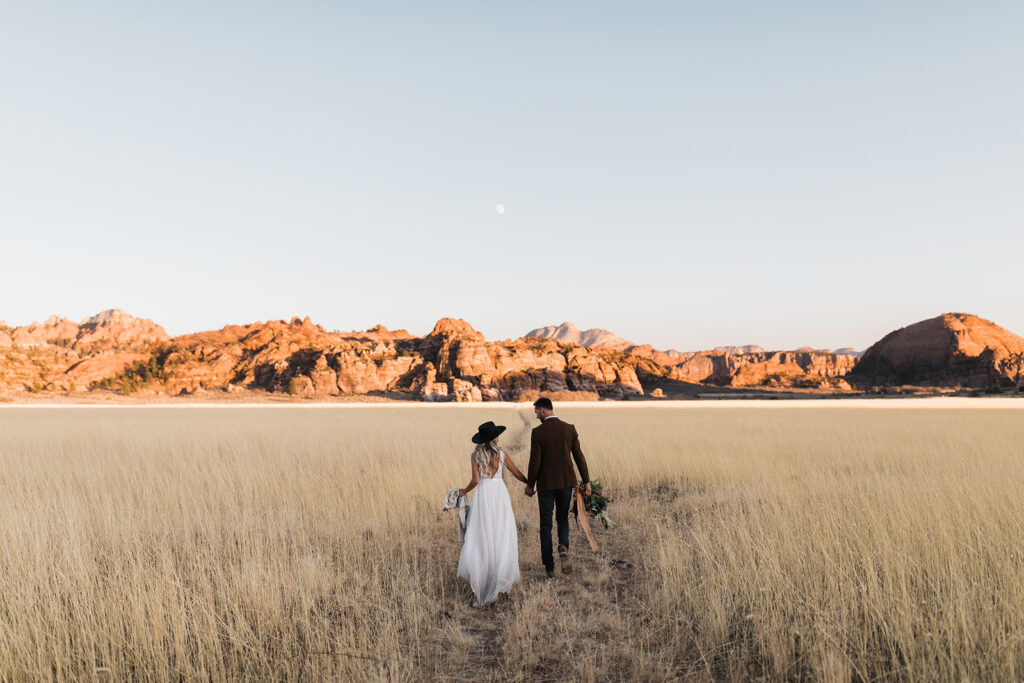 We've said it once, we'll say it a million times, couple's sessions are hands down incredible!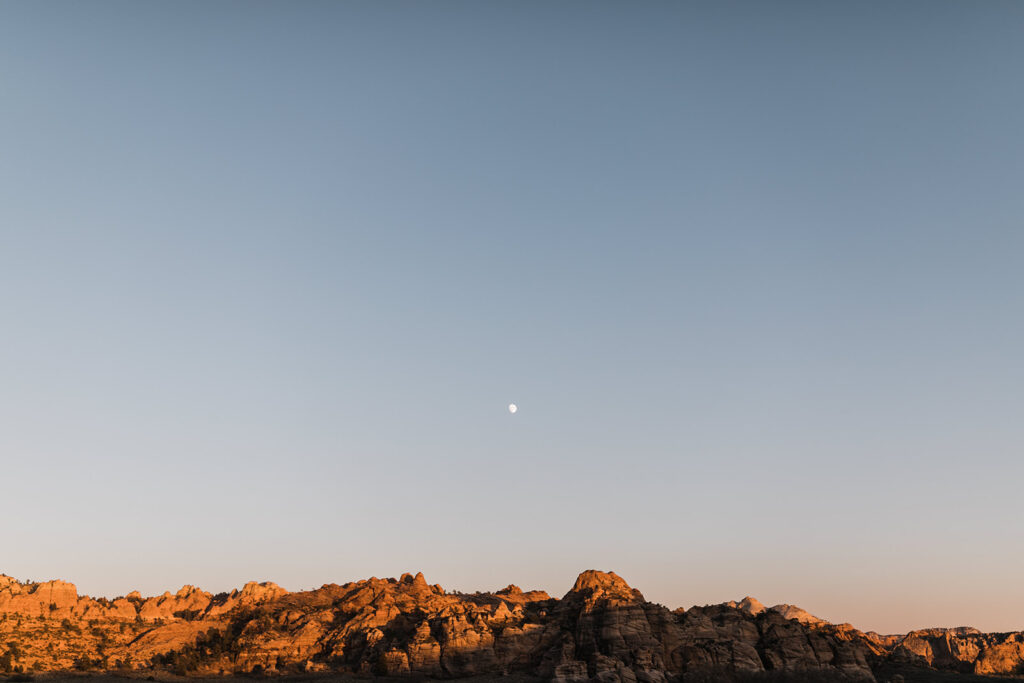 RECEPTION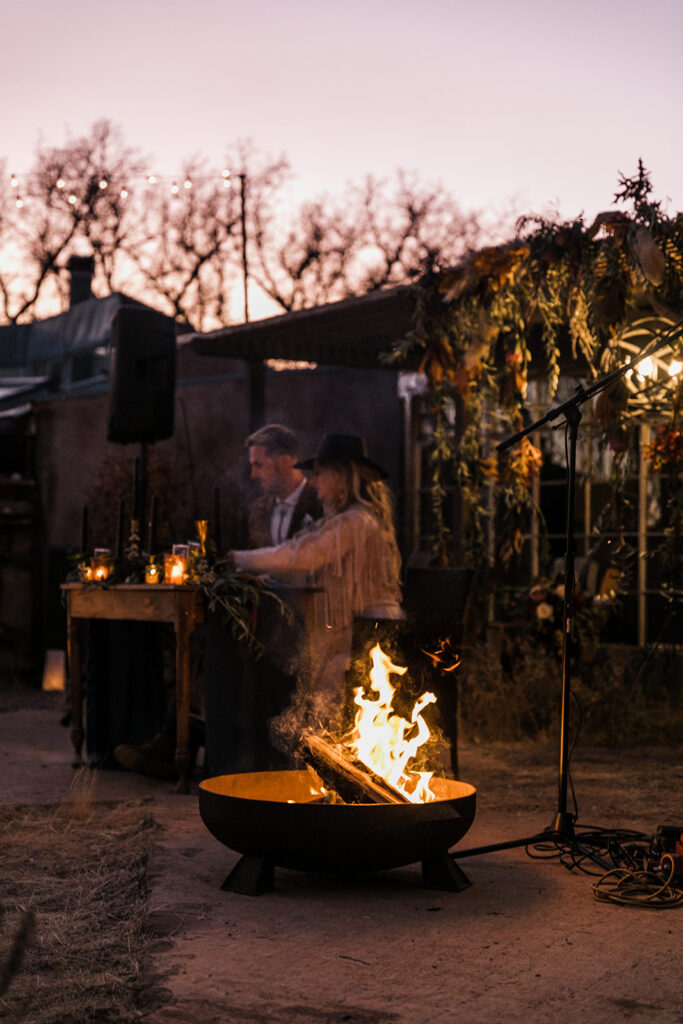 Receptions don't always need to be big, long celebrations with a receiving line and 200+ guests. Katie + Tyler's reception was the perfect after-party celebration for a beautiful day. They had a warm campfire welcome with dancing, toasts, and a whole lot of love. They laughed the night away beneath the Lazalu moonlit sky.
ADVENTURE DAY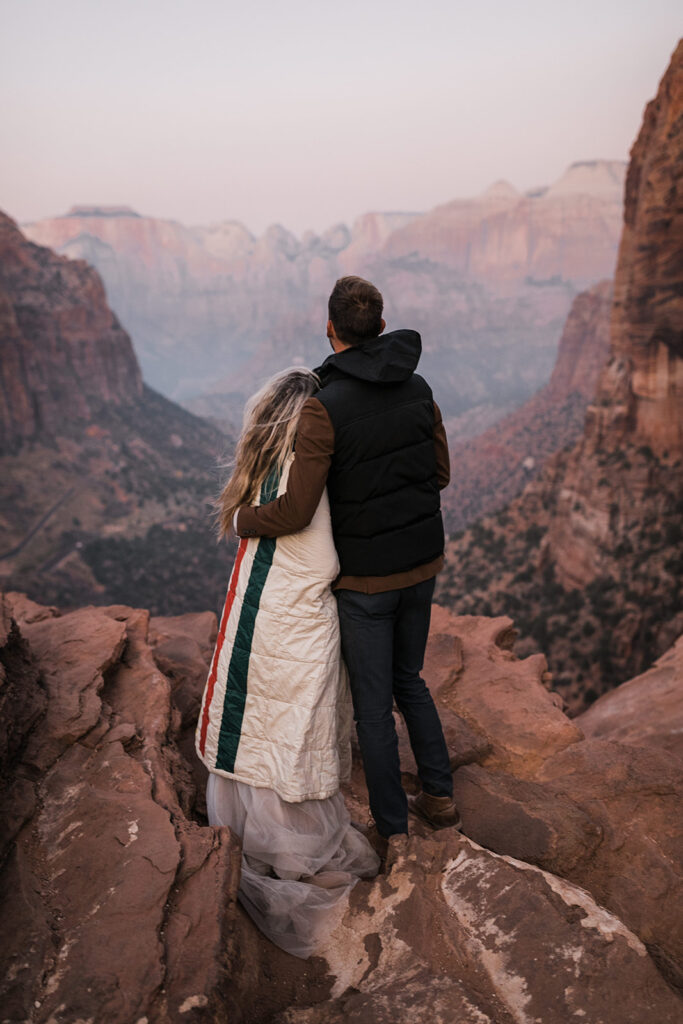 Waking up at 4:00 in the morning after partying the night away! Very cold, but very worth it!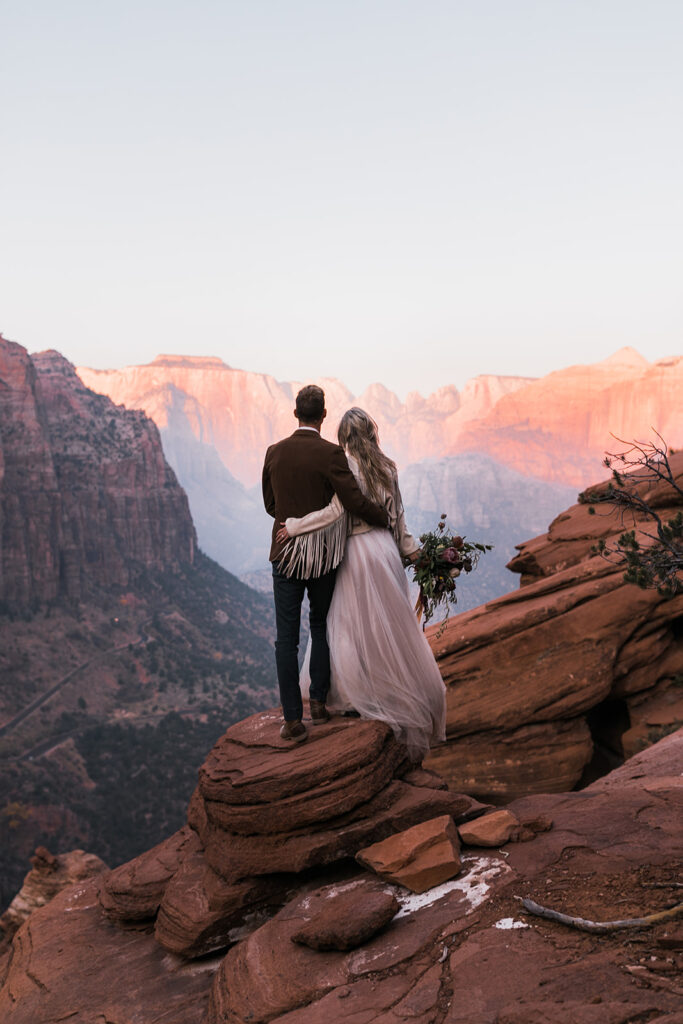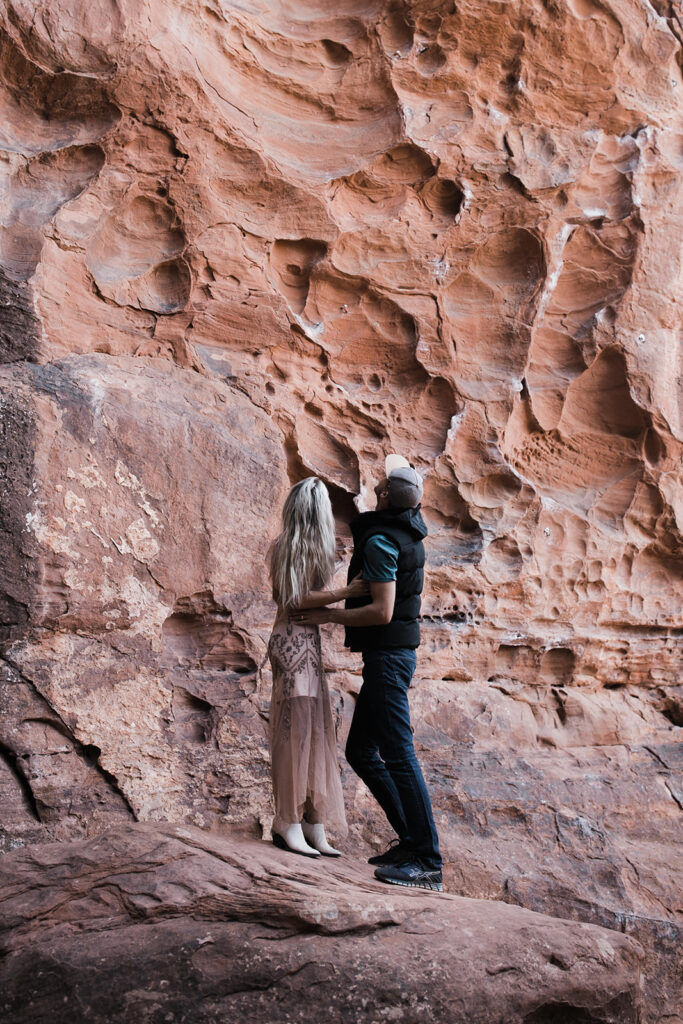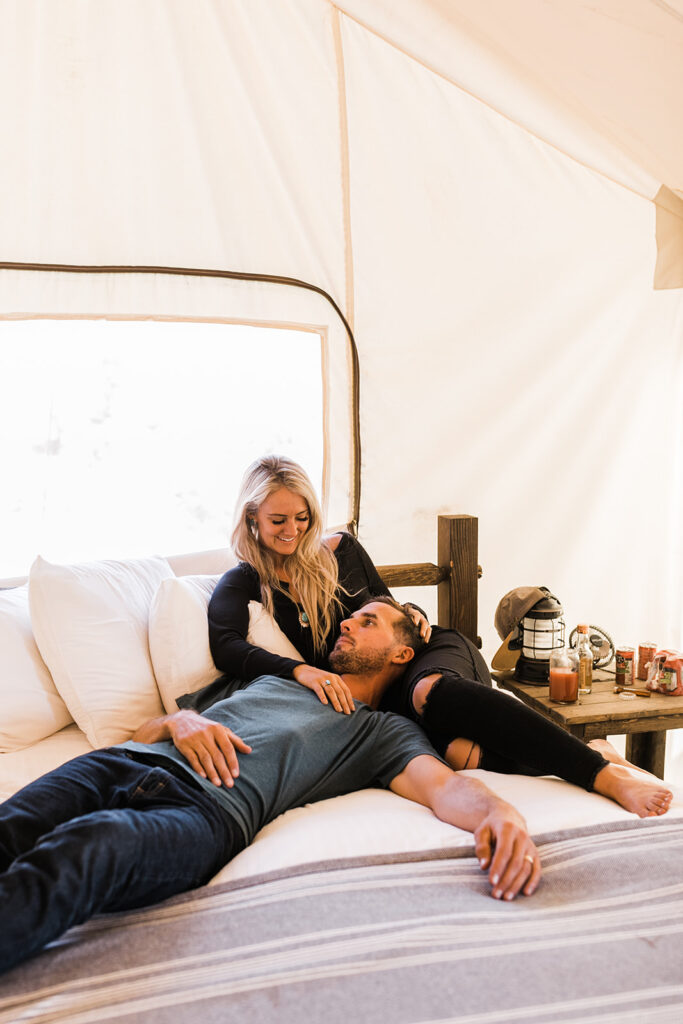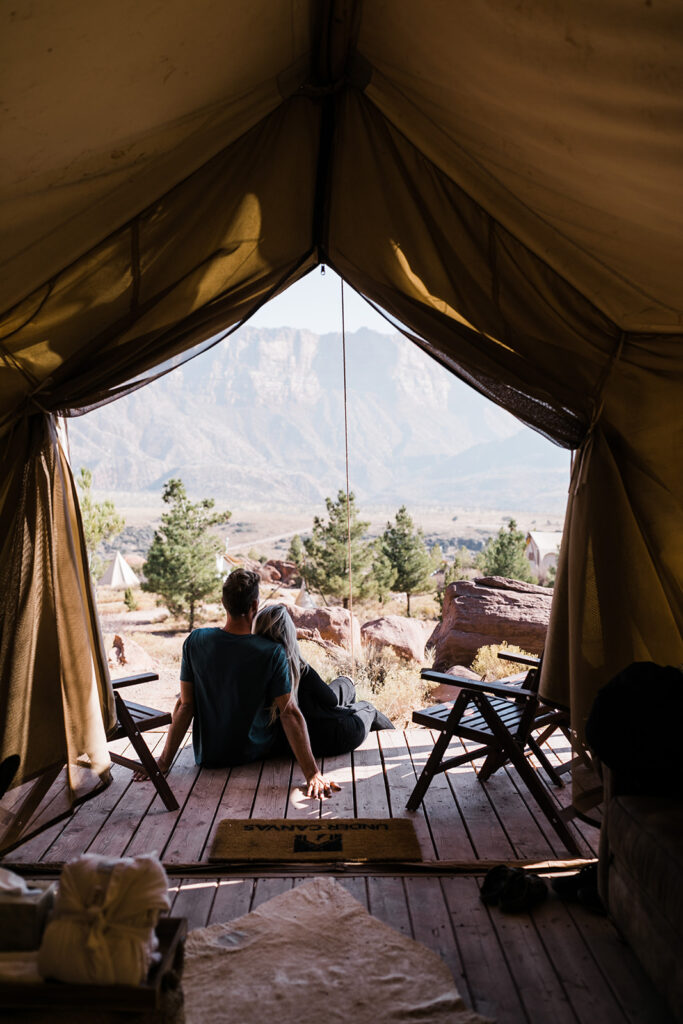 Ending their wedding weekend with an adventure session + intimate Under Canvas session.
VENDORS:
Yoga @stellatrincado
Coordination + Design @forevermoreevents
Venue: @undercanvaszion
Venue @lazalu_in_zion
Cake @cupcakejulie
Floral @bybloomers
HMUA @chantrywagstaff
Music @art_cowles
Photographer @thehearnes
Accessories @opalmilk
Rentals @stgeorgepartyrentals
Bride @katiekate410
Calligraphy @black.julep.studio
BOHO WESTERN BRIDE STYLE
Custom Fringe Bridal Jacket: Opal Milk by Rye
Bride's Earrings + Perfume: Opal Milk by Rye
Bride Straw Hat: Lack of Color
Adventure Wedding Dress: Made with Love Bridal
ZION NATIONAL PARK WEDDING VENDORS:
Bridal Bouquet: By Bloomers
Private Utah Yoga Instructor: Stella Blue Trincado
Lodging, Sunrise Yoga, + Campfire Rehearsal Dinner: Under Canvas Zion
Bride + Groom Lodging & Intimate Wedding Reception: Lazalu Zion
Intimate Wedding Caterer: Chef Crosland
Bridal Hair + Make Up: Chantry Wagstaff
Elopement Coordinator + Day of Planner: Forevermore Events
Wedding Ceremony: Zion National Park